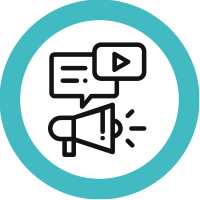 It's impossible not to communicate.
Starting from this basic principle, we immediately recognise the importance of an efficient transmission - to different audiences - of identity,  story,  culture,  values,  methods and peculiarities of the company and its products/services.
Today the web is the main channel through which the audience looks for information and, in addition to the website, social networks play a strategic role, because they don't just permit to share in a continuous way - with an always increasing level of detail -  the brand image, strengthening the company identity, but they also allow  interaction with the audience.
For this reason, it's necessary to identify the right social networks for the company goals and to study a strategy and ad hoc communication for each of them: which content to share, which tone of voice to use, which graphical layout and so on.
We deal with the management of channels like Facebook, Instagram, Linkedin and Twitter.
For our clients, we take care of the drafting of an editorial plan, we write the copy for the posts and identify and create the multimedia material, we manage audience interactions and digital pr.